Samsung SDI Holds ESG Workshop for Executives
Post. 2023.06.01
Samsung SDI Holds ESG Workshop for Executives
□ The company discusses how to better engage employees and strengthen ESG execution capabilities
□ Samsung SDI CEO Yoon-ho Choi says, "Together with all stakeholders, we will execute competent ESG management to make the world greener and sustainable through our innovative technology"
SEOUL, Korea – June 1, 2023 – Samsung SDI today announced that the company held a workshop on an environmental, social, and corporate governance (ESG) for the CEO and the executives in a bid to bolster its ESG management. A dedicated ESG workshop was a proposal of Mi-kyeong Lee, one of the directors of the board newly appointed earlier this year.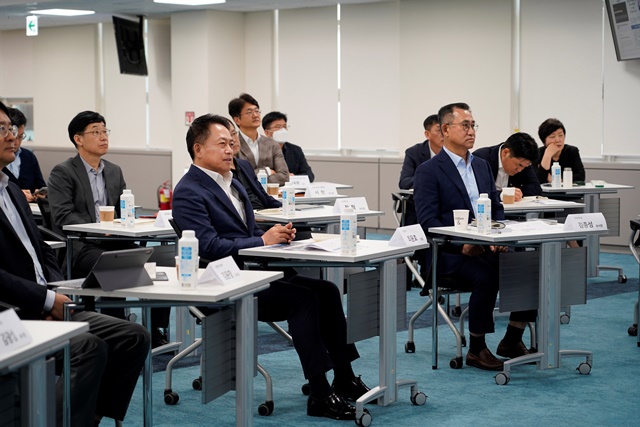 Through this workshop aimed at the company's top management, Samsung SDI seeks to promote an understanding of what ESG entails as well as enhance the implementation of ESG practices in its management going forwards.
The topics discussed during the ESG workshop were key ESG trends in business management led by Dae-woong Lim, the CEO of BNZ Partners, and the current status of Samsung SDI's ESG management outlined by Deok-chan Yoon, the CEO of Who's Good. The last session was allocated to discussing the future direction of Samsung SDI's ESG works.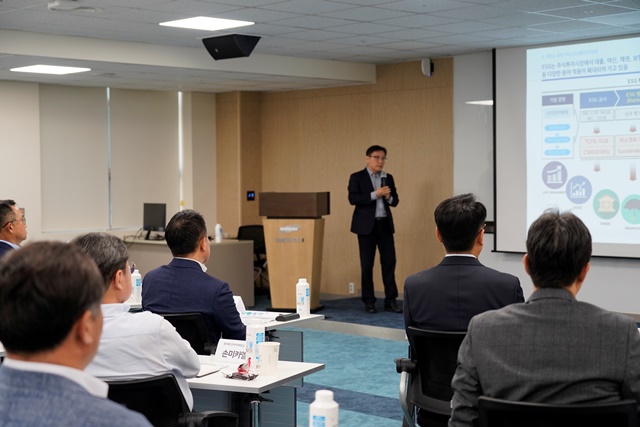 Since his inauguration as the CEO of the company, Yoon-ho Choi spared no efforts in establishing a sustainable management system. In January 2022, Samsung SDI set up a comprehensive work for sustainable management by creating the Sustainable Management Committee under the Board of Directors followed by the reshuffle of ESG Strategy Group into the Sustainability Management Office overseen by the CFO in February. Earlier this year, dedicated ESG working groups were installed in every business unit to reinforce their sustainable work.
In September of 2022, Samsung SDI joined the RE100 initiative, a global voluntary initiative to replenish 100 percent of corporate electricity consumption with renewable energy by 2050. In the following month, the company declared environment-friendly management which accompanied a package of strategies, including eight specific tasks under two themes - response to climate change and resource circularity.
At last year's end, Dow Jones Sustainability Indices (DJSI) included Samsung SDI, making it the Samsung battery maker's eighteenth-straight appearance in the globally recognized sustainability index, a feat exceeded any other Korean companies.
The first quarter of this year continued to see the company expanding its participation in various global initiatives. It joined Global Battery Alliance (GBA) for a sustainable battery value chain and became a member of Carbon Disclosure Project Supply Chain program for better ESG engagement with its supply partners at home and abroad.
In an effort to further boost the ESG awareness of the employees and executives, Samsung SDI deployed a company-wide online training program on ESG fundamentals in the previous month. An ESG idea contest is also underway to solicit ideas and opinions on how to put ESG into practice in an effective and feasible manner.
"Integrating the environmental, social and corporate governance in a company's management is the most crucial component for a business not just as part of a corporate responsibility but as a driver for a business' future competitiveness," remarked Samsung SDI President and CEO Yoon-ho Choi. "Together with all our stakeholders, we will execute competent ESG management to make the world greener and sustainable through our innovative technology by 2030, our vision as a green business."