Samsung SDI, SKKU Join Forces to Raise Battery Experts
Post. 2022.11.11
Samsung SDI, SKKU Join Forces to Raise Battery Experts
□ Sungkyunkwan University to offer 'Samsung SDI Scholarship' to 100 students from 2023 through 2032
□ Samsung SDI continues to expand collaboration with universities following POSTECH, SNU, KAIST and Hanyang University
□ President and CEO YOONHO CHOI pledges to spare no effort to raise and invest in future talent for technological competitiveness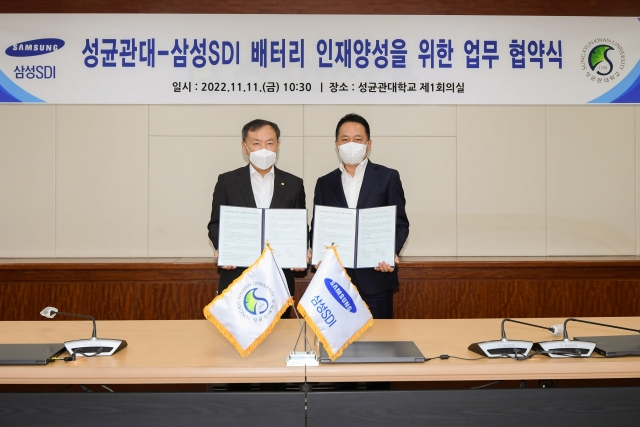 Nov. 11, 2022 - Samsung SDI joined hands with Sungkyunkwan University to raise future battery professionals.
Samsung SDI today announced the company signed an agreement with Sungkyunkwan University to establish a course for battery technologies. Including Dong-ryeol Shin, the president of Sungkyunkwan University and other top officials from the university attended a signing ceremony held at the campus in Suwon, Gyeonggi Province, alongside top executives from Samsung SDI, including President and CEO YOONHO CHOI.
Under the agreement, the parties will launch and operate a course where students learn about development of future rechargeable batteries, with a goal of nurturing experts on battery materials, cells and systems.
The program, scheduled to run from 2023 through 2032, aims to select a total of 100 students as recipients of 'Samsung SDI Scholarship'. The students entering the Master's and Ph.D courses will be required to take classes related to battery technologies and conduct pursuant researches while being eligible for various training programs and contests hosted by Samsung SDI.
Successful graduates will be provided with financial benefits and career opportunities at Samsung SDI.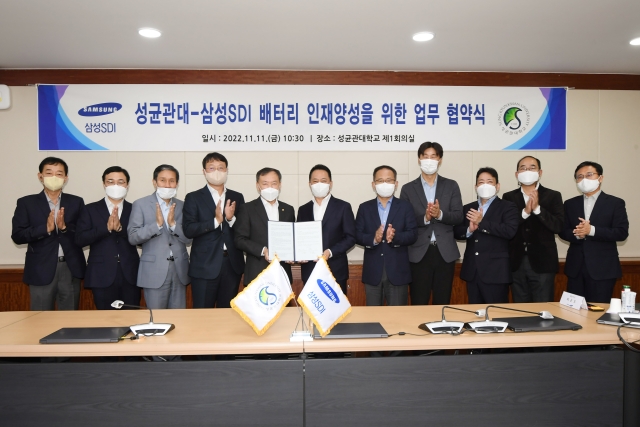 "We may pin high hopes on raising top-rate experts on batteries with joint efforts by school faculty and Samsung SDI," said Sungkyunkwan University President Dong-ryeol Shin.
"To enhance 'Super-gap technology competitiveness' that will put us in the position of a Global Top Tier Company by 2030, the most crucial factors are technology and people," said Samsung SDI President and CEO YOONHO CHOI. "The company will continue to support and invest in top talent that would lead the future of the battery industry."
Last year, Samsung SDI signed similar agreements with POSTECH, Seoul National University, KAIST and Hanyang University, which offer scholarships for 10 years and opportunities to work at Samsung SDI after graduation.​