Samsung SDI Seeks to Attract Top Talent for Vision 2030
Post. 2023.08.20
Samsung SDI Seeks to Attract Top Talent for Vision 2030
□ Samsung SDI CEO remarks, "It all comes down to people to materialize our goal of becoming a global Top Tier company by 2030. Be the star that shapes Samsung SDI's bright future"
□ The company holds Tech & Career Forum 2023 where key executives present technology trends
□ Next Tech & Career Forum to take place in Munich in September and San Francisco in October to entice global talent
SEOUL, Korea – August 20, 2023 – Samsung SDI today announced that the company held Tech & Career Forum 2023 for PhD-level talent on August 18 in Seoul.
Attended by around 200 participants, the job fair event invited the faculty and advanced degree graduates from top universities in Korea that Samsung SDI has been collaborating with through industry-academia partnerships.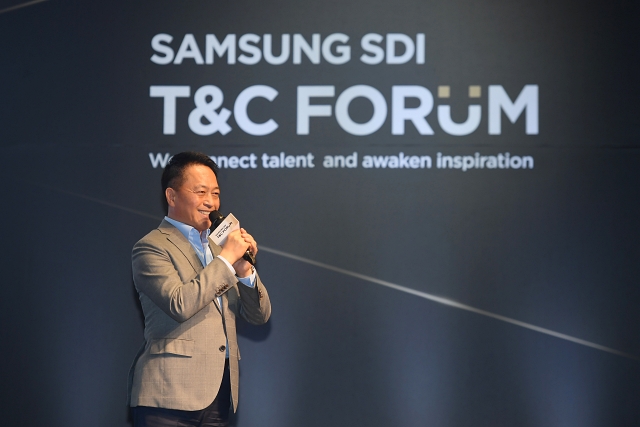 Attendees from Samsung SDI: President and CEO Yoon-ho Choi, Executive Vice President (EVP) and head of R&D Center Hyuk Chang, EVP and head of Automotive & ESS Battery Business' Development Office Nae-hyuck Chang, EVP and head of Small Battery Business' Development Office Jung-joon Park, Vice President and head of Electronic Materials Business' Development Office Joo-young Nam, EVP and head of Global Process/Equipment Development Center Byung-woo Lee.
The five-hour long forum included sessions that elaborated Samsung SDI's company profile and hiring process followed by tech seminars and a keynote speech.
Presenting the company's vision statement that reads, "To make the world greener and sustainable through our innovative technology" in his welcome speech, Samsung SDI CEO Yoon-ho Choi elucidated how the company is solidifying its inner fundamentals as well as driving external growth in order to achieve the goal of emerging as a global Top Tier company by 2030. "It all comes down to people to materialize our goal," He further remarked and added, "Be the star that shapes Samsung SDI's bright future."
Head of People Team Jae-woo Ahn enumerated Samsung SDI's work culture and recruitment process for master's and PhD holders and then key executives of five major divisions – Automotive & ESS Battery, Small Battery, Electronic Materials, R&D Center, and Global Process/Equipment Development Center – gave presentations on the newest tech trends in the respective field. The participants could choose a theme of their interest and attend the session, which helped them engage in the sessions they liked.
Head of R&D Center Hyuk Chang was welcomed to the stage as a keynote speaker to go over Samsung SDI's strategies for bolstering the research and development, as he highlighted the company's technological prowess.
As such, Samsung SDI's Tech & Career Forum 2023 was boosted by the attendance of the CEO and high-level management in charge of Samsung SDI's technology development, in a mission to expand the pool of international talent and enhance the company's employer branding in the recruitment market.
In a rapidly expanding battery industry, securing and fostering outstanding talent is deemed as another factor for competitiveness. Samsung SDI President and CEO Yoon-ho Choi continues to stress the importance of raising top talent along with speedy execution of the company's key management strategies – 'super-gap technology competitiveness,' 'best quality,' and 'profitable and qualitative growth.'
The company held The Tech & Career Forum was held two times in Seoul and New York last year in its hunt for global talent.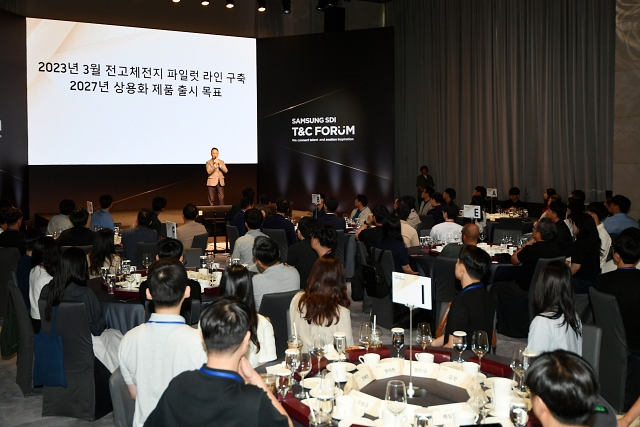 Also back in 2021, Samsung SDI signed a series of agreements on raising battery experts with Seoul National University, KAIST, POSTECH and Hanyang University and similar moves were made in 2022 with Sungkyunkwan University and UNIST, marking the cornerstone of what Samsung SDI considers to be its future competitive edge – retaining and nurturing top talent. The company plans to further expand its collaborations with academia.
Samsung SDI's career fair Tech & Career Forum will meet global elite talent in Munich next month and in San Francisco in October, continuing the company's drive in securing talent pool and strengthening its talent network.