Samsung SDI, Launched 'Tech & Career Forum' for Korean Doctoral Degree Holders
Post. 2022.07.12
Samsung SDI, Launched 'Tech & Career Forum' for Korean Doctoral Degree Holders
□ Executives in the battery development including the President and heads of R&D center and business development offices participated the forum to hire employees with experience in the battery field
□ President and CEO YOONHO CHOI said, "let us work together as the leaders who are achieving future super-gap technological competitiveness"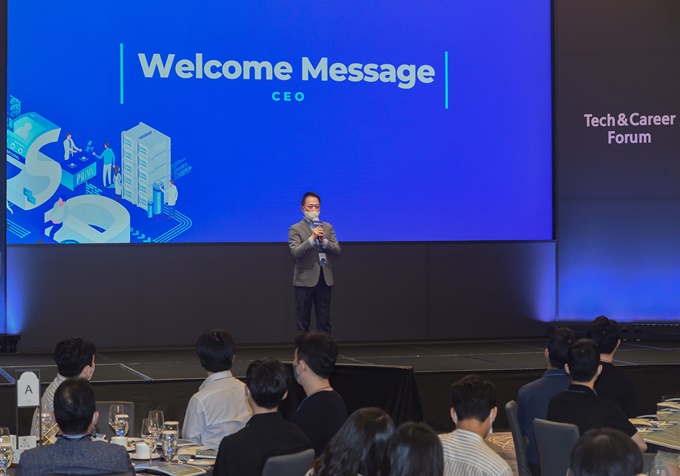 Samsung SDI started hiring employees in the battery field to enhance super-gap technological competitiveness.
On July 8, Samsung SDI announced that it launched 'Tech & Career Forum' for Korean doctoral degree holders at Josun Palace Hotel, Seoul. The forum was conducted in the order of the technology seminar about next generation battery and development of battery system and recruitment fair for doctoral degree holders. This is the first time for Samsung SDI to hold the large-sized forum to recruit doctoral level employees in Korea.
Participants of 'Tech & Carrer Forum' included President and CEO YOONHOI CHOI, EVP Chang Hyuk, Head of R&D Center, EVP Chang Nae-hyuck, Head of AEB) Development Office, EVP Park Jung-joon, Head of SB) Development Office, and heads of business development offices.
President and CEO YOONHO CHOI greeted the prospective employees and shared his wish of re-acquaintance with them being the essence of Samsung SDI's future competiveness. During the keynote speech, EVP Chang Hyuk, Head of R&D Center, emphasized that Samsung SDI is a technology-centric company as he explained Samsung SDI's R&D system and technological prowess.
Samsung SDI's main executives in the development field participated
'Tech & Career Forum' to recruit elite domestic human resources and enhance Samsung SDI's recruitment brand.
On July 1, during Samsung SDI's 52nd anniversary ceremony, President and CEO CHOI requested swift execution o three management policies, namely 'super-gap technological competitiveness', 'superior quality', and 'qualitative growth that prioritizes profitability'. He emphasized the importance of hiring and training employees to achieve the goals.
Samsung SDI signed battery talent training agreements with Seoul National University, POSTECH, KAIST, and Hanyang University for securing & training future talents and achieving super-gap technological competitiveness. As battery industry grows, competitions are becoming fiercer. Therefore, securing and training elite human resources have become more important.
Also, Samsung SDI is constantly spending the highest R&D expenditures in the industry, focusing on the development of the next-generation battery technology. Samsung SDI spent R&D expenditures of 712.6 billion won in 2019, 808.3 billion won in 2020, and 877.6 billion won in 2021, the highest in the record.
President and CEO CHO said, "Securing and training human resources are important for future competitiveness. And, I will spare no effort for enhancing the recruitment of elite talents in each area and improving employees' capabilities."
​​