The future of EV era which Samsung SDI dreams of
Post. 2022.05.02
The future of EV era which Samsung SDI dreams of
Participates 'The 9th International Electric Vehicle Expo'
​□ Showcased various battery line-ups including Gen. 6 and PRiMX brand
□ EVP Son Michael said, "This is the chance to take a look at Samsung SDI's technology and vision"

​Samsung SDI will showcase diverse battery technology that will lead the EV era.
Samsung SDI will participate in the 9th International Electric Vehicle Expo (IEVE) which will be held from May 3 (Tue) to 6 (Fri) at International Convention Center (ICC) Jeju. At the expo, Samsung SDI will showcase diverse mobility products including electric vehicles and electric scooters equipped with Samsung SDI's batteries.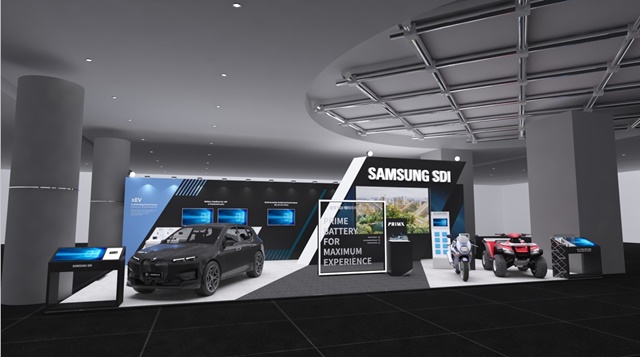 At this year's Samsung SDI's booth, the most eye-catching product would be BMW iX. It is equipped with Samsung SDI's Gen. 5 battery with the driving distance of 630km (WLTP standard) on a single charge and reaching 100% acceleration in 4.6 seconds. Audience could take a seat inside of the car experience the high-performance car directly.
In aiddtion to BMW iX, Samsunug SDI will showcase 'PRiMX', Smausng SDI's battery brand intdouced at 'InterBattery 2022' in last March, and related products. Also, Samsung SDI will exhibit diverse battery line-ups including products that are already introduced in the market and Gen. 6 that is in the process of development.
Samsung SDI plans to begin mass production of Gen.6 batteries from 2024. It increased the nickel content in Gen.6 batteries to 91 percent to enhance energy density by more than 10 percent and shorten the charging time via improvements in anode materials and production process.
Also, Samsung SDI will prepare South Korea's first electronic All Terrain Vehicle (ATV) which is equipped with the cylindrical battery, electronic scooters, replaceable battery packs, and charging stations to meet the audience.
EVP Son Michael, Head of the Automotive & ESS Battery Strategic Marketing Team, said, "Samsung SDI has been continuously developed the differentiated battery technology and worked to lead the EV market based on the best quality." Also, he added, "this expo will be the change to take a look at Samsung SDI's technology and vision".
In addition, on March 3 (Tue) at the opening event, Vice Chairman Jun Young-hyun will receive the award from Global EV Association Network for his contribution for the growth of EV market. And, Executive Vice President, Chang Nae-hyuck, Head of Corporate Office/Automotive & ESS Battery Development Office, will deliver the keynote speech at the Expo.
EVP Chang will explain the concept of EV fast charging, which gains a lot of attention recently, and categorize constraints into car, battery, charging, and environment and provide technology and ways to tackle the categorized problems under the theme of 'EV Ultra Fast Charging Barriers and Enablers'.
The International Electric Vehicle Expo was first launched in 2014. And, this year marks the 9th anniversary. Among the battery makers, Samsung SDI is the one and only participant in the Expo and about 200 e-mobility and energy related companies are also attending.
​