Samsung SDI launches ESS Battery to Expand into the Market
Post. 2018.03.20
Participated in Energy Storage Europe 2018, Germany's ESS Exhibition

□ The Company Unveiled High-capacity ESS Battery Cell with Substantially Enhanced Energy Density
□ Showcased New Products Including E3, a Cell-integrated High-Capacity ESS model
Samsung SDI launched its new ESS product, including high-capacity 111Ah (Ampere hour) ESS battery cell, which the energy density is substantially increased.
Samsung SDI exhibited new ESS products such as ESS cells, high-capacity ESS, high-power ESS, and residential ESS at the Energy Storage Europe 2018 held for three days from March 13th in Düsseldorf, Germany.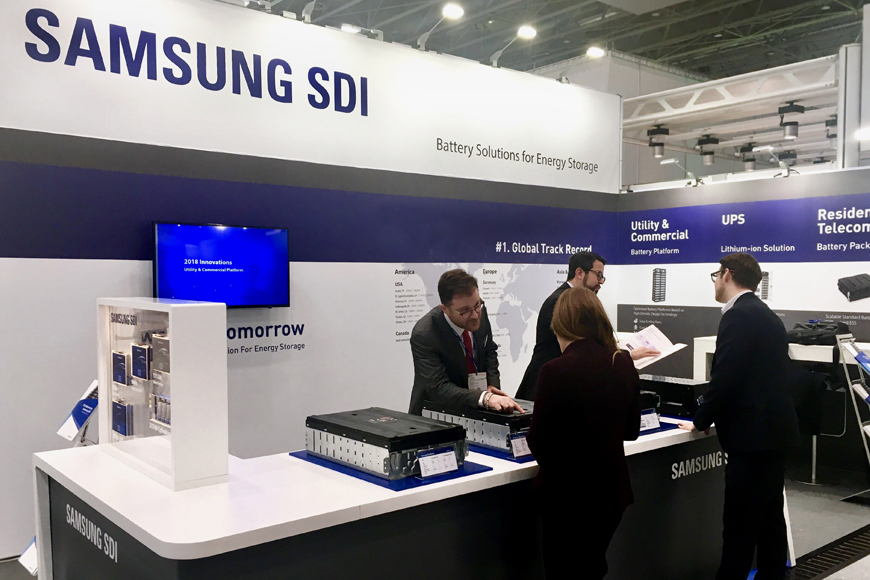 Being an international conference and exhibition for ESS and renewable energies, Energy Storage Europe was taken part by more than 160 ESS related companies from around 50 countries, as well as global ESS companies such as ABB of Switzerland, SIEMENS of Germany, and Younicos.
The 111Ah ESS battery cell showcased by Samsung SDI at the conference has the feature of substantially increased capacity. The capacity of this ESS battery is enhanced while the size is maintained through material innovation, and thus significantly increased the energy density of the battery. Moreover, the strength of this battery is that it allows an easy product upgrade without having to modify its design.
Samsung SDI first unveiled its new high-capacity ESS product, E3 model, which 111Ah cell is used to enhance the energy density. E3 can store the same amount of energy with less number of cells, enabling the size of the ESS facility to be reduced. This feature will receive spotlights from the market because it means that it can save installation and management cost.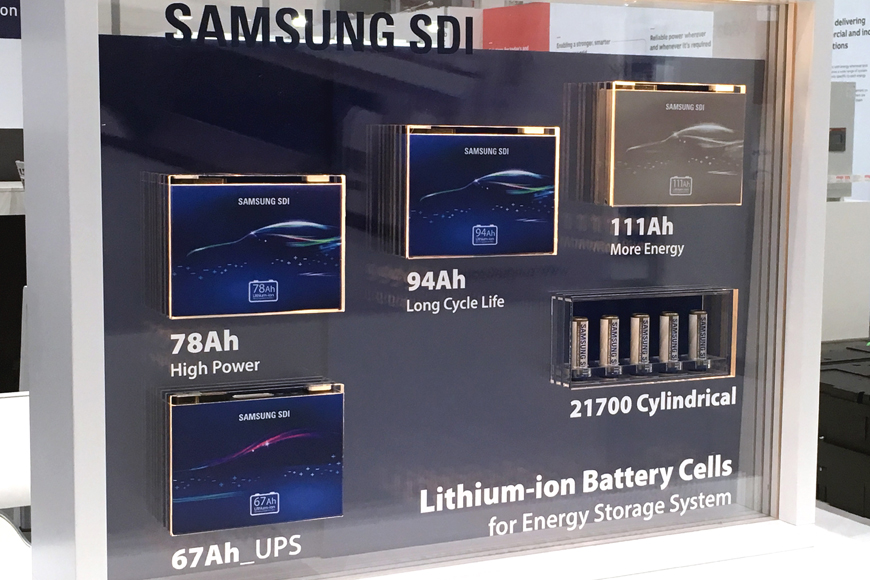 In addition, Samsung SDI showcased residential ESS products that are widely used in connection with high-power ESS and solar power, which stabilize the power quality by maintaining the power of the generator from the substation at a certain value. Furthermore, Samsung SDI also introduced a solution optimized for ISO containers, the high-voltage ESS technology. This technology is improved by reducing PCS, the main parts of ESS, and thus enabling it to save space and be cost-effective.
"We will strengthen our focus on the market through differentiated competitive edge such as ESS cells and ESS cells integrated products," said Sewoong Park, vice president of Strategic Marketing Office, Samsung SDI.
According to projections on the ESS market around the world reported by B3, a market research company, Samsung SDI was listed the top company for its market share of 38% in 2017. SNE Research projected that the global ESS market will increase yearly average of 45%, from 6.9GWh this year to 90.4Gwh by 2025.


[Terms Explained]
* ESS(Energy Storage System)
An energy storage system. In the order of cell → module →​ rack →​ container, collective cells become a module, modules become a rack, and racks become a container. ESS manufacturers supply products in various forms according to customers' demand. The final installation form of ESS is in a form of a container.
* Ah(Ampere hour)
A unit measurement for battery capacity. Energy density increases when the amount of power per unit volume increases.
* PCS(Power Conditioning System)
It is a system, which is one of the ESS parts, that converts direct current to alternating current of power. For example, direct current generated from solar energy is converted to alternating current, which then is sent to households.