Samsung SDI Unveils Innovative Battery Products at Detroit Motor Show
Post. 2018.01.15
"The Future of Electric Vehicles Starts Today"
□ Displays cells, modules and battery packs using highly efficient, leading-edge material that can help popularize electric vehicles
- Introduces new materials technology as well as various cells, modules and battery packs

□ Increases EV design flexibility with tailored products
- Exhibits Multi-Functional Module Battery Packs, Low Height Cells, 21700 Cylindrical Battery Cells
​
SEOUL and Detroit--Samsung SDI (President: Jun Young-hyun) (KRX:006400) announced that it has exhibited a brand new fast-charging, high-capacity battery material as well as cutting-edge battery products for electric vehicles at the 2018 North American International Auto Show (NAIAS), which opened at Cobo Center in Detroit on Monday, January 15 (local time).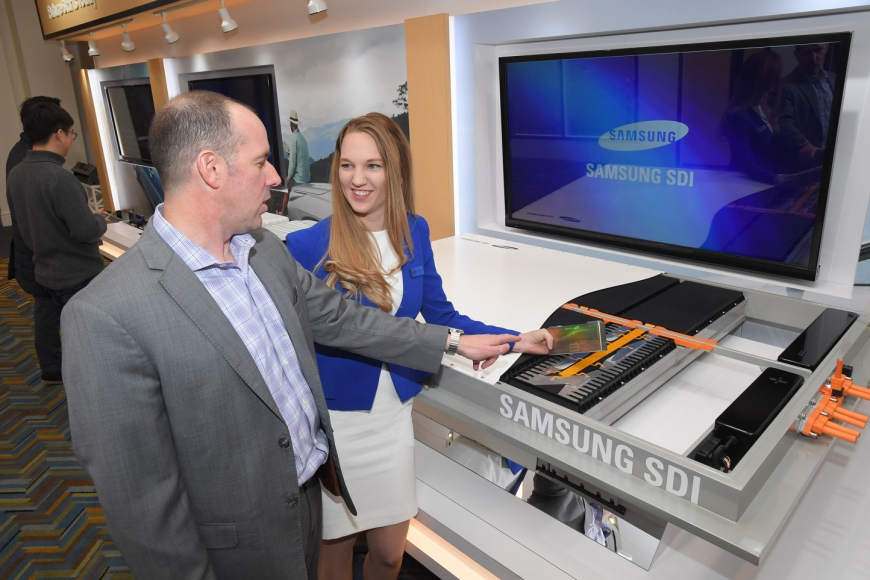 The concept of SDI's exhibition at the 2018 Detroit Motor Show is "Future Starts Today," which means that the future of electric vehicles operating on the same level as internal combustion engine vehicles starts today. The exhibition covers three themes - "Extend Your Journey," "Redefine Your Design" and "Enjoy Your Ride."
Samsung SDI is capable of unparalleled product competitiveness with a lineup of various battery cells for electric vehicles (EVs) and plug-in hybrid electric vehicles (PHEVs) which come in 37, 50, 60 and 94 ampere hour capacities. The lineup is highlighted by battery cells with energy densities high enough to propel EVs as far as 600 kilometers after just a 20-minute charge. Also Exhibited will be modules and packs utilizing these innovative battery cells demonstrating Samsung SDI's capabilities as total solution provider. In addition SDI will highlight the recently introduced battery technology of "graphene balls," a unique material that enables a 45 percent increase in capacity and five times faster charging speed. SDI will also be showing their latest effort with "solid-state batteries," a technology which has improved both the capacity and safety of SDI's batteries. The development of "graphene balls" by a team of researchers at the Samsung Advanced Institute and Technology was covered in the November 2017 edition of the science journal Nature Communications.
Samsung SDI also showcased various battery products, which will draw interest from automakers that want EV batteries tailored to their specific needs.
Multi-Functional Module Battery Packs of Samsung SDI allow users to adjust the number of modules to capacities they need and thus to diversify driving distances capabilities. These packs are expected to catch the eyes of automakers that want to make vehicles with different ranges by using a single pack as the foundation for an entire vehicle platform.
Another groundbreaking Samsung SDI product exhibited at the show is the "Low Height Cell." This is a cell whose height has been reduced by more than 20 percent from existing cells. By using this cell design the automotive companies can increase the interior space of an EV and increase design flexibility for the vehicle overall.
Samsung SDI also displayed cells and modules based on the new 21700 standard cylindrical battery. A '21700' battery is 21 millimeters in diameter and 70 millimeters in height with capacity that is 50 percent larger than 18650 battery technology. Its size is optimal for maximizing power output as well as battery life. A 21700 battery has come into the spotlight as the next-generation standard for applications in Energy Storage Systems (ESS), electric power tools and electric vehicles.
"We will lead the popularization of electric vehicles by developing products based on cutting-edge technology which will in an optimum manner meet the needs of our customers and the market," Jeong Seh-woong, executive vice president of automotive business and ESS business of Samsung SDI, said. "We will continue to lead global market as the world's top technology company providing total solutions for EV battery applications."