Very Special Korean Experience by Employees of Samsung SDI Hungary Office
Post. 2017.02.10
◇ Hungarian employees who are currently receiving battery facility training at Ulsan Plan went to experience traditional Korean culture such as Korean archery, rice cake soup, traditional clothes, and ancient palaces during the Lunar New Year holiday.
◇ Hungary Office, founded in 2001, is the foothold for Samsung SDI's expansion into the European market. Beginning with the production of Braun tube in 2001, the Hungarian plant manufactured PDP in 2007 and batteries in 2018.
◇ Employees who worked when the plant manufactured PDP returned to work for the renewed plant now producing batteries.
◇ CEO Cho Nam Seong encouraged the employees to have "a healthy sense of crisis and passion about our future vision.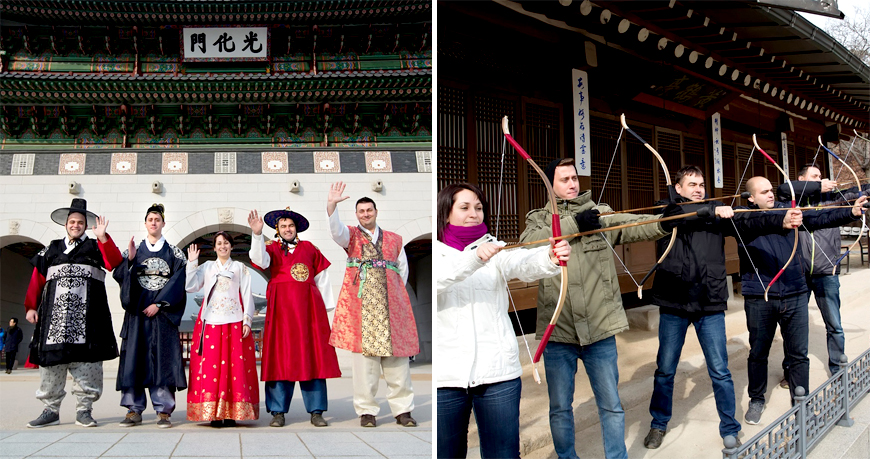 ​​Employees from Samsung SDI Hungary Experience Korean Culture
Hungarian employees working at the Samsung SDI's local outpost in Europe, who are currently in training in Korea, went to experience traditional Korean culture. The employees come from Hungary, a country that was selected as the European hub for Samsung SDI's main business of automobile battery manufacturing. They are currently being trained to operate battery manufacturing facilities. These workers who are new to Korea went on an excursion to Jongno in Seoul for the Lunar New Year's Day on the weekend to visit Hwanghakjeong Traditional Archery Museum and Gyeongbokgung Palace and experience Korean traditional culture.
The employees hopped on KTX, a bullet train, from Ulsan to arrive at Seoul. They then were transported to Hwanghakjeong Traditional Archery Museum located in Sajik-dong, Jongno-gu. The Hungarian employees continued to shift their position while sitting on the floor, clearly unfamiliar with the Korean culture of sitting on the floor.
"Hungary also has a tradition of archery. We used to be a country with a strength in horseback riding archery. I like ancient weapons, and it's a great pleasure to view and make traditional Korean bows here," said Mr. George, who showed the most interest in the bow making activity.
After the employees shot several arrows at the shooting range in Hwanghakjeong with the bows they made, they visited a restaurant in Gwanghwamun Gate area to try traditional foods such as rice cake soup and noodles. The Hungarian employees, who have been in training at Ulsan Plant for three months, used chopsticks proficiently to eat the rice cake soup.
"In Hungary, we don't eat chicken or duck dish because we are afraid of fortune flying away. Instead, we eat dishes made with lentils, because the beans remind us of money, people believe that they will bring wealth. Another food we eat at New Year's is young pork meat because it is thought to bring fortune," said Mr. Daniel who says his new year's resolution is to quit smoking. The Hungarians talked about their hopes for the new year as they ate the rice cake soup.
As the last stop of the excursion, the employees visited Gyeongbokgung Palace in traditional Korean clothes. Some even wore gat, a traditional broad-brimmed hat, and made a traditional pigtail hairdo, in addition to beautiful Korean clothes, to which they expressed much satisfaction. Ms. Bernedette, the only woman to participate in the event on the day, said that she came to respect the Korean traditional fashion which is so beautiful, and wearing the clothes made her love the clothes even more.
After taking a look around the palace, the employees gathered in front of the Gyeonghoeru Pavilion to share their feelings about the excursion. They also showed a great enthusiasm for the start of working at Samsung SDI Hungary in the new year. Mr. Chuber said, "Today's experience was very special. I felt that the foundational mission of Hwanghakjeong, in particular, was relevant to our situation because we are preparing for the new start of the Hungary Plant." He also asked other Korean participants to provide much emotional support for the Hungarian Office of the company in the new year.
Hwanghakjeong, the place the employees visited first during this excursion, was founded by Korean Emperor Gojong in the late 19th century to pass down the art of traditional archery, which was on the course of being forgotten. The name of the pavilion means, "Bull's-eye can be hit when the archer has good intentions inside and upright body on the outside." It is a place that harbors the dreams of Emperor Gojong who dreamt of his country's revival by setting himself upright and practicing archery. The five Hungarian employees returned to Ulsan after the series of activities, and pledged to contribute to the new beginning of Samsung SDI Hungary. ​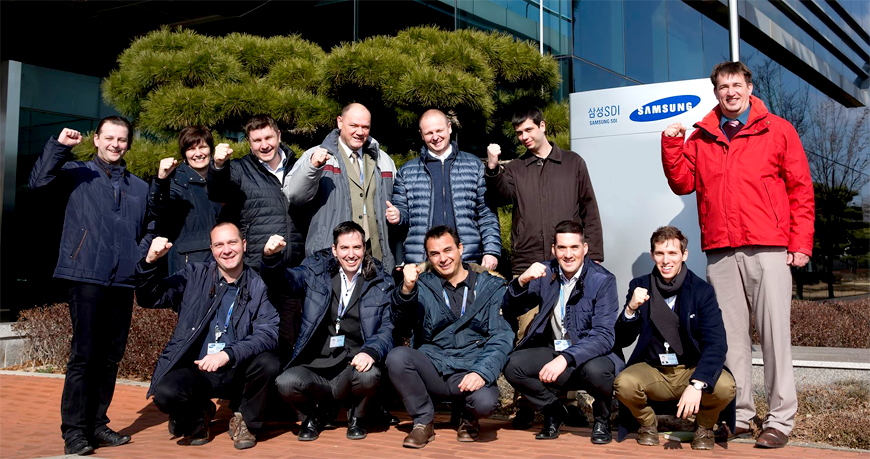 Hungarian Employees Who Led the Golden Age of PDP Come to Ulsan Plant
At the beginning of the new year, a group of foreign employees are eagerly learning the operation of battery manufacturing facilities at Samsung SDI's Ulsan Plant. These are employees from the company's Hungary Plant, dispatched to Ulsan, Korea from November of last year until February of this year to learning how to set up a battery plant in Hungary.
The Hungary Plant of Samsung SDI was first established in 2001, beginning Braun tube production in 2002 and transformed into a PDP manufacturing plant in 2007. For the next seven years, the factory produced PDP modules before ceasing production due to the advent of LCD and OLED technologies in 2013. In August 2016, Samsung SDI selected the site of Hungary Plant as the hub for manufacturing automobile batteries that will give the company a foothold in the European market. Hungary Plant is in the process of being set up, with the preparation of employee training and facility installations for the kick-start in later half of 2018.
"Most of us have not lived in a dormitory before, and we were most shocked by the communal showers, which was difficult to get used to," said a Hungarian employee being trained at Ulsan, laughing and talking about this culture shock.
It is newsworthy that these Hungarian employees came all the way to Korea to learn battery manufacturing process, but what is more special is that some of the visitors are making a renewed relationship with Samsung SDI. After its announcement in August 2016 that the Hungary PDP Plant will be renovated to manufacture automobile batteries, the company employees 97 people, 39 of whom used to work at Braun tube and PDP production line in the same factory.
A returning employee cited the bright future prospect of the business to explain why he came back, saying: "Europe has a growing interest in eco-friendly vehicles, with a high possibility of growing electric vehicle market. I was looking at this new prospect in the market when I came across the news that Samsung SDI was repurposing the old factory into a battery plant and that new jobs were available there. That is why I returned.
Kovacs Zsuzsanna, who worked on Braun tube and PDP manufacturing from 2003 to 2008, feels much more specially attached to Samsung SDI, because she met her fiancé while working at the company. She fondly remembers her long time at the company for kind and good colleagues with whom she collaborated. She says that Samsung SDI "is a good working place with an excellent working environment." Most of all, to Ms. Zsuzsanna, the company is especially special because she met her fiancé there. She said, "I am daunted by doing something new in automobile battery, but I am very happy because I can be with the company working on an industry with an infinite possibility."
Bolla David Sandor, who worked for Samsung SDI for ten years until its Hungary Plant ceased PDP operations in 2014, worked with Samsung Electronics Hungary Office after he parted with the manufacturing plant. He came back after hearing the news that the manufacturing plant will begin again as an automobile production plant. About why he came back to Samsung SDI from Samsung Electronics, Mr. Sandor said, "Samsung SDI, where I worked for ten years, is like a home for me. Although automobile is an industry that I had not experienced before, I wanted to nurture professionalism in a new promising area. I want to improve the company with my know-hows from various experiences from the past."
Karosi Laszlo, who worked in a facility technology department of Hungary Plant from 2002 to 2014, said, "I always had challenging goals because I began working from the setup of the factory. I enjoyed my work, which never ceased to change without staying stagnant." Mr. Lazlo worked for a French automobile company after separating with Samsung SDI in 2014, said that he returned to his old company because of good memories there, and that he would like to work with his colleagues like those days when the factory manufactured PDP modules.
The Hungarian employees are to finish training in mid-February, and return home to begin working on setting up the facilities at the renewed Hungary Plant. During the first half of this year the facilities will be ready, and in the later half it will begin the preparations for manufacturing to commence supply automobile batteries for the European market within this year.
Samsung SDI CEO Cho Nam Seong visited the Ulsan Plant on January 12 to meet with the Hungarian employees receiving training. There, Mr. Cho said that the company chose Hungary Plant for battery production because of the outstanding record of labor-management relationship and excellent manufacturing competitiveness. He also explained that the Hungary Plant will be the foundation for Samsung SDI's expansion into the European automobile market. Later, he urged the employees to have a healthy sense of crisis for the future vision and continue on in one direction together, also promising to continue to increase opportunities to communicate with employees.
​